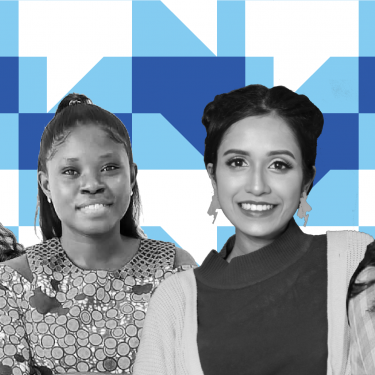 Post-COP Activists Connect
An event for passionate activists, experts in climate and water, those impatient for change.
On Thursday 20 January 2022, young activists in climate and water connected to look back at COP26. Has it been more "blah, blah, blah", or has genuine progress been made?
These are very consequential times, when social and environmental issues demand urgent action. The biggest problems facing our world, including achieving the Sustainable Development Goals, can only be solved if we recognise how interconnected they are.
Climate, and water and sanitation. When it comes to equality, you can't have one without the others. How can those campaigning for climate justice and the human right to safe water join hands to move beyond the blah?
Panellists included:
Valery Molay: Climate activist at heart | Passionate about justice and young people's role in advocacy | Former UN Youth Delegate for Ireland | Climate Justice officer for the National Youth Council of Ireland
Shomy Hasan Chowdhury: Multi-award-winning water, sanitation and hygiene activist from Bangladesh | Co-founder of youth-led NGO Awareness 360 | Forbes 30 under 30 featured honoree for Social Impact
Gabriel Klaasen: Intersectional activist from Cape Town | Youth coordinator for the African Climate Alliance | Communications officer for Project 90 by 2030.
Patience Agyekum: Lead policy team at the Strategic Youth Network for Development | Ensuring voices of young people are instilled in Ghana's Climate Change Policies
Srilekha Chakraborty: Gender rights activist | storyteller | focus on water, sanitation and hygiene and sexual reproductive health and rights of marginalised tribal women and girls in India
Desmond Alugnoa: Co-founder of Green Africa Youth Organization | coordinator for Africa Member Support Program under the Global Alliance for Incinerator Alternatives, youth advisor to the Global Center on AdaptationClimate Programme. Desmond is replacing Joshua Amponsem.
With special guest appearances by:
Henk Ovink: Dutch Special Envoy for International Water Affairs | Sherpa to UN High Level Panel on water | Co-author of Rebuild by Design: A Transformative Approach to Climate Change
Bonita Murungi: Ugandan award-winning author and climate change activist
It's time for positive action and change. Event hosted by Hajar Yagkoubi, former Netherlands youth representative to the United Nations.
View the recording below